My solo exhibition
Post Date : 2017-11-16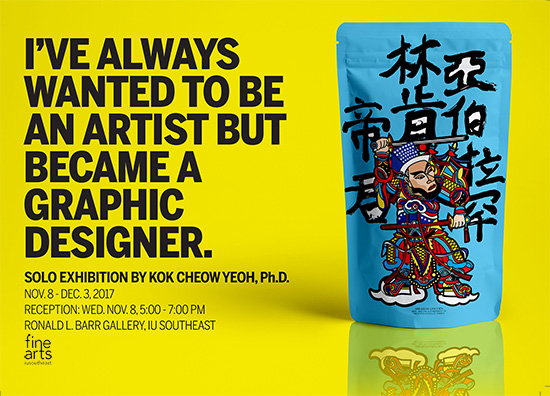 I'VE ALWAYS WANTED TO BE AN ARTIST BUT BECAME A GRAPHIC DESIGNER: A SOLO EXHIBITION BY KOK CHEOW YEOH, Ph.D.

Hope to see you at my solo exhibition (Nov 8 - Dec 3, 2017, held at the Indiana University Southeast Barr Gallery, 4201 Grant Line Road, New Albany, Indiana 47150

OPENING RECEPTION: Wednesday, Nov 8, 5:00 - 7:00 PM.

STATEMENT: Living in an economy where consumption is the machine that drives economic growth has led to phenomena of planned obsolescence and rapidly changing styles. Consumerism is so ingrained in the consciousness and vocabulary of our society that it is difficult to separate our dependency on it. Through a tongue-in-cheek approach in masquerading his social commentary posters as visuals found on consumerist objects, Dr. Kok Cheow Yeoh, Assistant Professor of Fine Arts and Area Head of Graphic Design at IU Southeast, wishes to link our obsessions and dependency on materialism to social issues of ignorance, deprivation, and discrimination. By linking his posters to consumeristic objects with topics of social, political, and economic issues at a vernacular level, graphic design is shifted from serving commercial interests to become agents of social change.9.

For pictures from the event opening, click here.

ABOUT YEOH