Turn Hopes into Homes
Post Date : 2013-05-17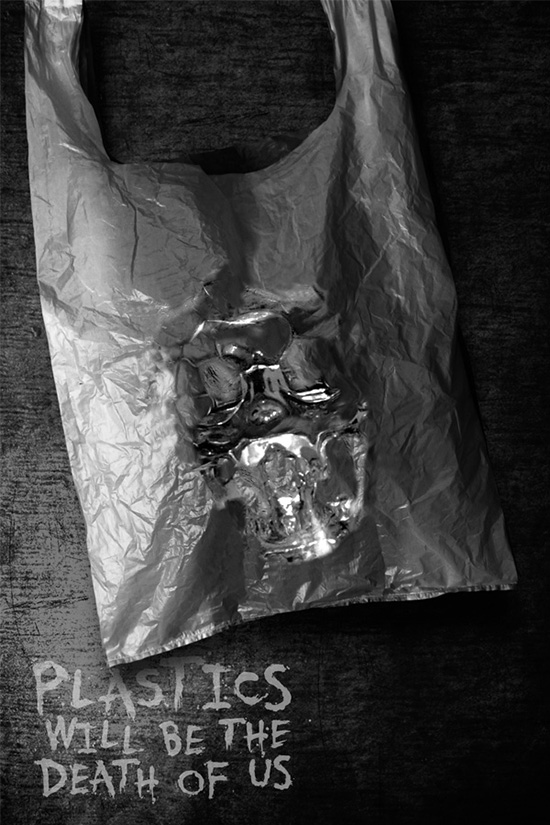 Using the skull as a metaphor to bring forth the idea that lurking underneath every used or discarded plastic bag is a step that brings us closer to the demise of the human race. In the name of convenience, we've become over-reliant on petroleum-derived products. While evil may lurk in the background without our awareness in suspenseful dramas, in these posters, evil become a strong focal point-a messenger that plastic will be the death of us. Grungy textures become a contrasting background to suggest a grim and polluted environment tainted over the decades. The overall image is sepulchral and tomb-like with strong dynamically placed central elements such as the plastic bag or the plastic bottle, making the message easy to understand and difficult to miss.

This is a series of two posters submitted for the Segunda Llamada, the Universidad Autonoma Metropolitana and Natura Mexico's 3rd International Poster competition on May 16, 2013.
To see my other posters, click here.

ABOUT YEOH
Introduction
Awards/Notoriety
Clients-list
Conferences
Exhibitions
Publications
Academic-Services
Events
Links




Hello! My name is Kok Cheow YEOH (pronounced Coke Chow Yo, Yeoh being the surname or last name). Originally from Malaysia, I have been calling Singapore home since 2003. My passion in design which led to teaching has taken me from the foggy city of San Francisco in California to the provincial town of Magnolia in Arkansas, to desolate Lubbock in Texas, and historical Savannah in Georgia, USA before setting in Singapore where I was being recruited to help set up the Visual Communication department at the new School of Art Design and Media in Nanyang Technological University. I'm now a lecturer of graphic communication from the division of Public and Promotional Communication at the Wee Kim Wee School of Communication and Information, Nanyang Technological University in Singapore.

This site is a record, archive, notebook and sketchbook of my years as a student, graphic designer, and now a lecturer. In addition to teaching and the continuing practice of design, I also conduct training for design related classes, exhibit internationally, present at conferences, publish in journals and have won awards over the years. Two of my posters were recently selected for the Moscow Global Biennale of Graphic Design in October of 2012.

Drop me a line or two if you're interested in my work or my services.

Best regards,
KC Yeoh, Ph.D.