Typo Day 2015
Post Date : 2014-09-14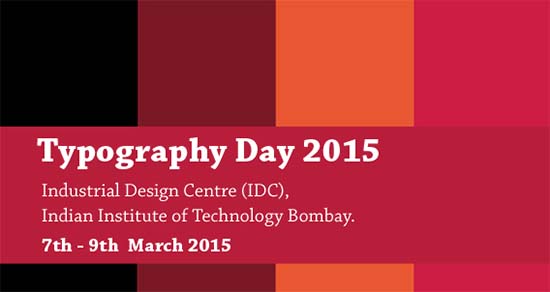 Focus on 'Typography, Sensitivity and Fineness'

The 8th Typography Day 2015 conference will be organized from 7th to 9th of March 2015 at the Industrial Design Centre (IDC), Indian Institute of Technology Bombay (IIT Bombay) with support from India Design Association (InDeAs) and Aksharaya.

The theme for this year's event is 'Typography, Sensitivity and Fineness.'

The event will feature a day of workshops on Typography and Calligraphy followed by two days of conference dedicated to 'typography, Sensitivity and Fineness'. The international conference will be devoted to addressing issues faced by type designers, type users and type educators. The conference includes presentations by invited keynote speakers, eminent academicians, blind juried papers, industry professionals, research scholars and students. The event will also host an exhibition of selected posters and typographic works of students and faculty members from Design Institutes.

The event is planned over three days:
Day 1: Workshops on Typography + Meet on 'Research in Typography'
Day 2-3 : Conference focusing on 'Typography, Sensitivity and Fineness'
Click here to find out more about the conference.


ABOUT YEOH
Introduction
Awards/Notoriety
Clients
Conferences
Events
Exhibitions
Publications
Academic-Services
Teaching-Philosophy
Links




Hello! Hello! My name is Kok Cheow YEOH (pronounced Coke Chow Yo). If that's too hard for you, you can call me KC. This site is a record, archive, notebook and sketchbook of my years as a practicing graphic designer and academic practitioner. In addition to teaching and the continuing practice of design, I also conduct training for design related classes, exhibit internationally, present at conferences, publish in journals and have won awards over the years. My skills, strength, values and aspirations are deeply rooted in my background as a first-generation to graduate from college. As such, I have come to believe that my goal in life is not to find the right answers but to understand who I really am as my sense of self is deeply rooted in the way I view myself in relation to others, the environment and the interactivity between me, the people and the environment in which we all live, work and play in.

Poke around, check out my work and drop me a line or two if you're interested in my work or services.

Best regards,
KC Yeoh, Ph.D.