Design and Emotion 2014
Post Date : 2014-10-14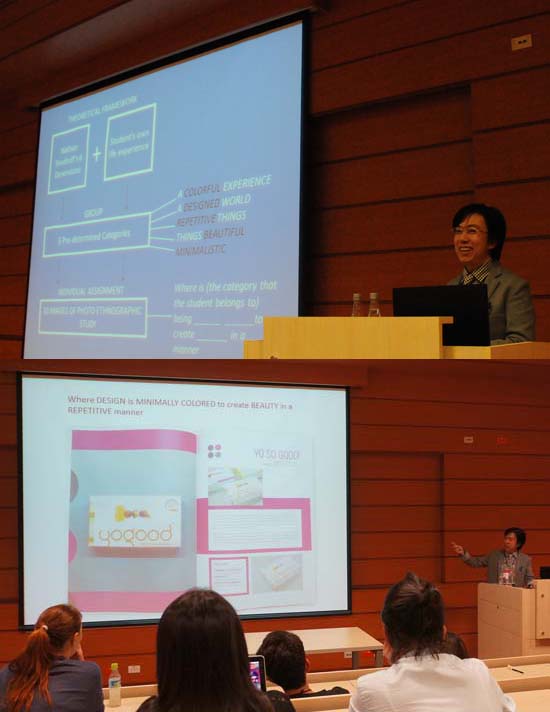 On October 8, 2014, I presented my paper, "To learn is to experience: How our daily interactions with objects, events, the environment and people can be a classroom," at Universidad de Los Andes which hosts the 9th International Conference on Design & Emotion in Bogota, Colombia from October 6 - 10th. The paper was based on the "Creative Visual Experience and Design" course at Nanyang Technological University

This year, there were submissions from 24 different countries and all submissions were double-blind reviewed by at least two experts and was carefully assessed by the program committee.

ABSTRACT:
Testing a premise put forth by Nathan Shedroff (2001) that there is always an experience created by an object, an event, the environment and people, this paper is a report for an experimental course at the Wee Kim Wee School of Communication and Information in Singapore's Nanyang Technological University. Using experience as a form of pedagogical technique in bridging our experience to what could be learned and shared, 144 students are presented with five predetermined categories to choose from, followed by an individual assignment derived from their interpretations of Shedroff's six dimensions of experience. The course is an attempt to add newness to problem-based learning which engages students in contextualized and authentic problems with realistic real-world expectations. By adding our common sensorial and cognitive experiences that we come across everyday as a catalyst for learning and discoveries, the students are also exposed to other learning outcomes--creativity, collaboration, team spirit, artistic appreciation, photography and crafting.

Click here to find out more about Design and Emotion 2014.


ABOUT YEOH
Introduction
Awards/Notoriety
Clients
Conferences
Events
Exhibitions
Publications
Academic-Services
Teaching-Philosophy
Links




Hello! Hello! My name is Kok Cheow YEOH (pronounced Coke Chow Yo). If that's too hard for you, you can call me KC. This site is a record, archive, notebook and sketchbook of my years as a practicing graphic designer and academic practitioner. In addition to teaching and the continuing practice of design, I also conduct training for design related classes, exhibit internationally, present at conferences, publish in journals and have won awards over the years. My skills, strength, values and aspirations are deeply rooted in my background as a first-generation to graduate from college. As such, I have come to believe that my goal in life is not to find the right answers but to understand who I really am as my sense of self is deeply rooted in the way I view myself in relation to others, the environment and the interactivity between me, the people and the environment in which we all live, work and play in.

Poke around, check out my work and drop me a line or two if you're interested in my work or services.

Best regards,
KC Yeoh, Ph.D.